Graveyard Shift
The Dumbest Friend Groups In Horror

384 votes
81 voters
2.3k views
14 items
List Rules Vote up the group with the biggest dum-dums.
People say there's safety in numbers, but that's not always the case for the dumbest friend groups in horror movies. These buds diminish their chances of staying alive by making stupid choices: investigating strange artifacts or sounds, conspiring against each other, and - of course - splitting up in pursuit of assistance. Audiences watch with agitation as tragedy unravels due to poor judgment.
What the dumbest friends in horror movies fail to realize is that they are being chased by malevolent monsters with one goal: their annihilation. While some members of these horror movie crews make it out alive, they endure tortuous ordeals that lead to the demise of their closest allies. Survivors must reconcile with carrying out some of the dumbest plans in genre history.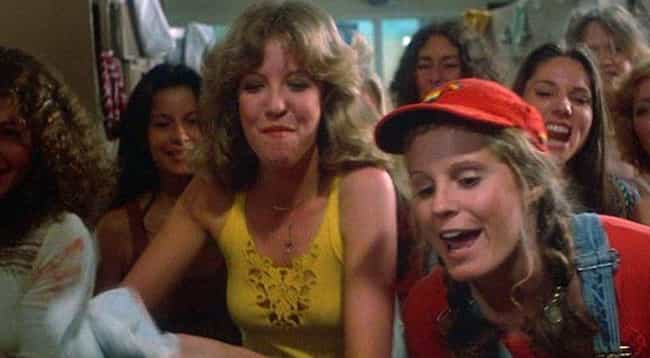 Standout Moron: Christine "Chris" Hargensen is the leader of the high school girl group intent upon tormenting the shy, awkward, and telekinetic Carrie.
Single Dumbest Move: The crew hatches a plan to ridicule Carrie at their prom. Chris takes her mean girl status to sociopathic levels, convincing her boyfriend, Billy, to get some fresh pig's blood from the local slaughterhouse to dump on Carrie's head.
Comeuppance: After being humiliated in front of the whole school, Carrie uses her psychic powers to lock all the prom attendees inside the gymnasium and decimate them with fire and rage.
Actors: John Travolta, Sissy Spacek, Piper Laurie, Nancy Allen, Amy Irving, + more
Released: 1976
Directed by: Brian De Palma

Are they morons?
see more on Carrie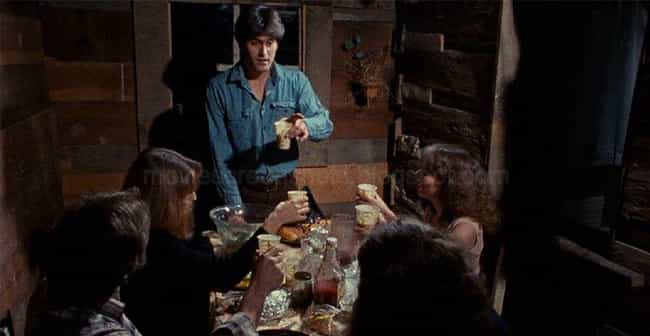 Standout Moron: Scott has the brilliant idea to play a tape recording of ancient Sumerian chants found in the basement of the isolated cabin he and his friends are staying at. On top of playing the ancient chants, he opens the occult text Naturan Demanto.
Single Dumbest Move: These friends vacationing in Tennessee are incapable of coming to a consensus about what to do after demonic forces are unleashed and descend upon them. Their fate is sealed by all their arguing and splintering. Though escaping demonic forces is no easy task, perhaps they may have had a better chance if they focused on the issue at hard rather than their petty disputes.
Comeuppance: Through bodily possession and diabolical, stabby trees, the evil entity - angry over being woken from its slumber - forges a very bloody trail of carnage. Ash is the lone survivor, ready to put his head-removing skills to use in the following films.
Actors: Bruce Campbell, Sam Raimi, Ted Raimi, Scott Spiegel, Ellen Sandweiss, + more
Released: 1981
Directed by: Sam Raimi

Are they morons?
see more on The Evil Dead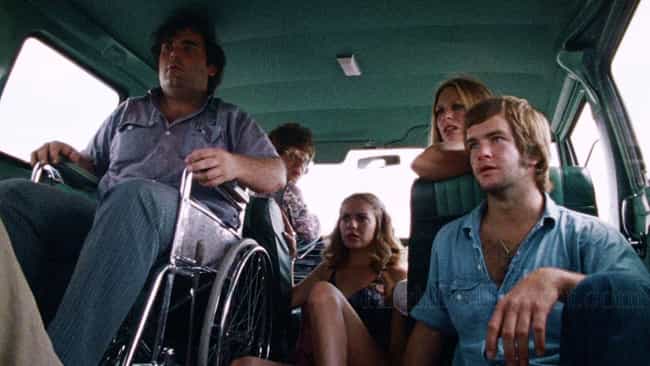 Standout Moron: Both Kirk and Pam are responsible for leading their friends astray by wandering off together to find a watering hole on the Hardesty land - unknown, and as they find later, dangerous territory.
Single Dumbest Move: The friends decide it's okay to pick up a demented-looking hitchhiker with a roadkill purse fashioned around his neck. Considering the purpose of their trip was to check out the desecrated grave of Sally and Franklin's grandfather, they should have taken the hint that something was not right with this town and saved that Texas hospitality for folks in the next locale.
Comeuppance: The cannibalistic Sawyer clan - with chainsaw-wielding Leatherface doing the grunt work - hunt and eviscerate the friends one by one like the cattle they used to process in the now-defunct slaughterhouse. Sally manages to escape with her life intact, but only after becoming acquainted with Leatherface at the Sawyer dinner table, being chased around with a chainsaw a few times, and watching all her friends meet grisly ends.

Are they morons?
see more on The Texas Chainsaw Massacre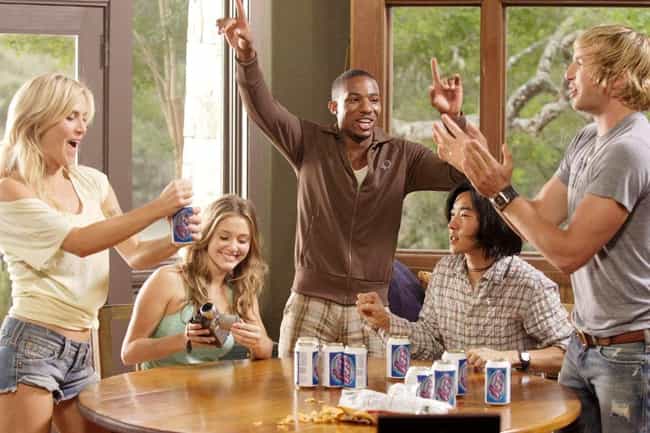 Standout Moron: There are two batches of young fools who fall prey to Jason Voorhees in this remake, and it's Whitney from the first group who gets the award for biggest moron. After she's rescued by her brother, Clay, from Jason's machete, she lets herself believe Jason is actually gone, lets her guard down, and is eventually dragged into Crystal Lake by the revenge-fueled slayer.
Single Dumbest Move: While Whitney is still missing, Clay seeks help at the summer cabin belonging to Trent, who is vacationing with five of his best friends. Instead of running as far away from the suspicious scenario as possible, the group decides to break up and trek around the lake in hopes of locating Whitney.
Comeuppance: Jason does what he knows best: slashing and bashing all the substance-loving, beer-guzzling adolescents partying around Crystal Lake.
Actors: Jared Padalecki, Danielle Panabaker, Amanda Righetti, Willa Ford, Julianna Guill, + more
Released: 2009
Directed by: Marcus Nispel

Are they morons?
see more on Friday the 13th